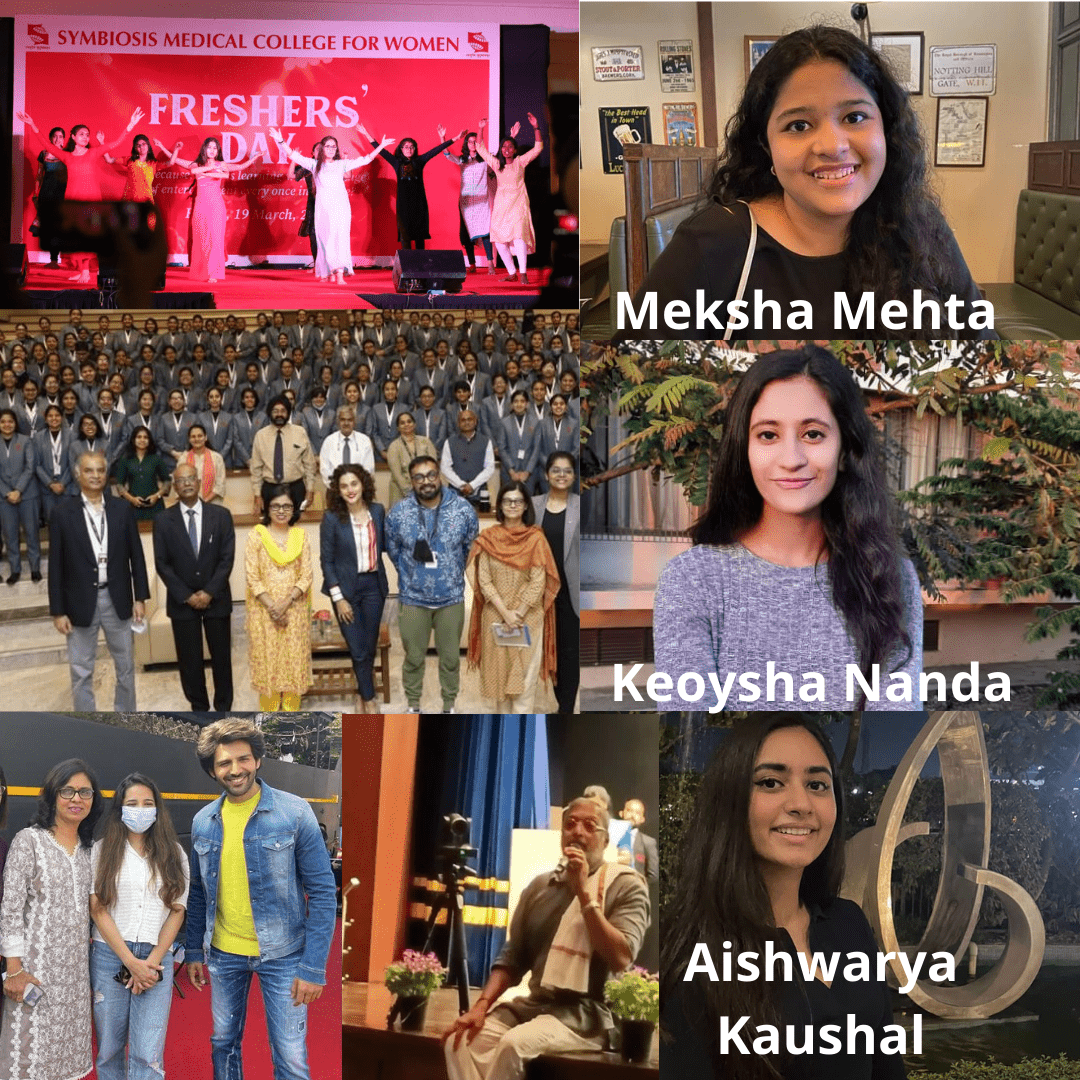 A year has gone by since the Symbiosis Medical College for Women was inaugurated. While for me as an administrator, a doctor and a facilitator it has been simply wonderful to see the first batch of women doctors being groomed into ethical doctors, the journey belongs to these young girls. Therefore, in this blog I have tried to bring out their stories of learning and growing, which talks of the time spent by these young budding doctors both in the classroom and beyond.
Let me start by quoting Aishwarya Kaushal who is the Head of the Student Council for the second consecutive year. Aishwarya says that "even under the duress of the COVID-19 pandemic, I am privileged to have an abundance of good memories from SMCW to reflect on."
Keoysha Nanda, another student reminisces about the first year and adds to this by saying "From a super stressful and energy draining period of giving NEET-UG to finally making my way into Symbiosis Medical College of Women is truly a dream come true. In this short period of one year, I learned various aspects of life in college. From working in the dissection hall with scalpels and forceps, to wearing white coats with a stethoscope around my neck, made me realize the essence of this noble profession. Our professors are so organized and dedicated and make use of the best and updated teaching techniques such that we not only read our 2D textbooks but are able to create a 3D view of it in our minds, there by absorbing it to the core. I also cherish the way the college has promoted us to do research and decipher new prospects of medicine."
Aishwarya then talks of her life beyond the classroom mentioning about the time when she met a group of girls in the first week of college, each of whom was from a different state, and all had very different personalities. She says "We instantly clicked and I created some of my fondest memories. I got to celebrate cultures and festivals from all over the country, tried almost the entire menu at the college's SymbiEat, discovered Puneri Eateries   to hang out at, and found confidantes that, hopefully, will last for a lifetime."
However, through my interactions with these doctors I also realise that though they have so many opportunities around them, they are never distracted and are always enthused to become better at what they have chosen to do. Even when they meet celebrities such as Nana Patekar, Kartik Arya and Tapsee Pannu they ask such eclectic questions that everyone is floored. So, while Aishwarya was trying out the opportunities at the Symbiosis Lavale Campus she says that "The first time I entered the teaching hospital as a medical student, I got to see patients with a newer perspective and looked at the doctors with newfound respect. I finally fully saw the importance of being skilled at your art – something my parents have always told me."
Meksha Mehta brings an important perspective that most people have about us Medicos. In her words "People often think that medical students don't get enough time to pursue their hobbies. But that's actually a myth! I am a proud student at SMCW campus at Lavale, Pune seems like the perfect place for me to spend my leisure time. Walking around campus has always been a major part of my daily routine. Interacting with other college students has also been an enjoyable experience. At the hilltop we can also ride bicycles and eat our favourite delicacies at the Sandipani Restaurant."
Sanjana Nagane has interacted extensively with students from Engineering, Photography & Culinary Arts College. She says that "It's fun to talk and spend time with students that are not from MBBS. We play multiple sports together like badminton, volleyball, and basketball. I remember that time when I went to a talent show organized by the photography college and a Christmas party by the media communications college. I saw all these different college students dance, sing and even do a ramp walk and a magic show. I even attended the volleyball team auctioning and the matches at the engineering college. We also had to opportunity to join the team. It's interesting to listen to the culinary arts students talk about food, as though it's the only important thing in life. I realized how important it is to have a creative side to oneself from the photography students. Sometimes we mutually share a ground with engineering students to play cricket. It's very enlightening listening to people have different takes on life and how they enjoy their lives in so many ways."
Mind me these are just a few glimpses into the lives of the students at SMCW and yet there is so much that remains. Seeing this medical college campus and the wonderful experiences that these young girls have had, I really wished that the time machine went back 40 years and I could join this medical college once again!! I would have been far more enriched through the excellent teaching through simulators, interactions with students from different disciplines other than medicine and more importantly get to see such diverse patients in the hospital right from my first year of MBBS!!