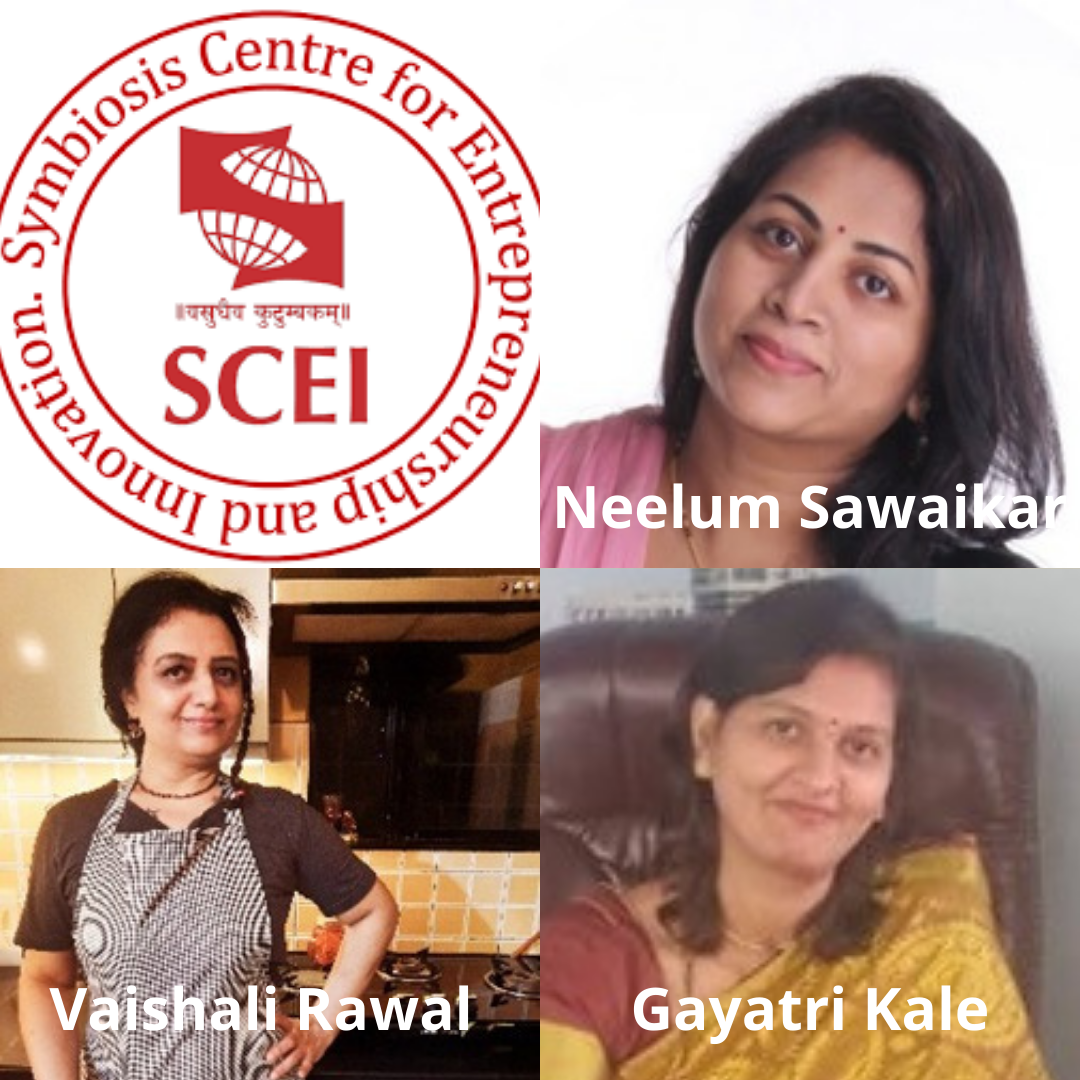 As promised, this blog is a continuation of my previous blog. Here, I am going to talk about women who have chosen to follow their dreams and their urge to become an entrepreneur. A little help from the Women Entrepreneurship Wing at Symbiosis has helped them in creating a more robust future for themselves.
 The first who comes to my mind is Neelum Sawaikar. Neelam is a 46 years old lady who hails from Malaysia. The reason why this came first to me is rather obvious as it is related to education. Neelam, set up a learning platform called Goshtee. It is a query- based learning platform encouraging informal, byte-sized, micro-learning opportunities for people of all ages across the globe. Kudos to Neelam for putting in such immense hard work into Goshtee and ensuring that she builds something we all want in terms of our learning needs but cannot place a finger on what exactly that is. Goshtee is that place where your searching finger stops and your mind says "this is it!". (Instagram: ttps://www.instagram.com/our.goshtee/)
Though Neelam already had a Master's degree in Business Administration, she says that the content at Women Entrepreneurship Development Program (WEDP) helped upgrade all that plus lent her the opportunity to put theory into practice. "When I was encouraged to work on my idea, what guided me was the knowledge and experience shared by all the mentors at the program," was what Neelam said about the WEDP. However, beyond the curriculum and the technical teaching at WEDP, what makes me the happiest is the fact that Neelam did not have an idea about what kind of a start-up she wanted and all she knew was that she wanted one, and the environment at WEDP was just the right breeding ground for the idea to germinate! A very happy Neelam was found saying "Overall, for me WEDP was just the thing I needed at that point in time!
The next venture I would like to mention has been birthed out of an adversity. Vaishali Rawal, our entrepreneur belongs to Pune evinced an opportunity while others were lamenting. She saw this as an opportunity to help others. And therefore, she started Vrinda'S Svedanika. This HomeChef service that was started during the peak of Covid second wave provides home cooked meals to Covid patients, their families, WFH professionals and students who were unable to return home. Later it diversified into providing seasonal and regional speciality food on popular demand. (https://www.instagram.com/vrindas_svedanika)
Vaishali says "I have never come across such an informative, inspirational worthwhile, and concise program for innovation, entrepreneurship and start-up!!" She added that it was the opportunity that was given for to practice all the learning that had been given during the leadership development which helped enhance her knowledge.
Gayatri Kale, a woman who understands the value of conservation started her venture that was focussed on eco-friendly friendly products and is a good substitute for plastic. With the mission to reduce use of plastic and in turn reduce plastic pollution she started her venture Gayatri Enterprises with brand name Ecomitra4all. She believes that "using eco-friendly products in daily life will bring a great change in the environment." There are products like toothbrush, earbuds, soap case, tongue cleaners etc. which can be included in our daily life and pollution can be reduced. Not only will it contribute in reducing the pollution but also promotes farming. (Instagram: @Ecomitra4all)
Gayaatri heard about WEDP by Symbiosis, from her friend Harshada from South Africa which truly makes me believe that the World is indeed One Family! As her friend too had benefited from the program, Gaaytri joined the course in May 2020. After having completed it she said "It was one of the best experiences in my life!"
Also, as Gayatri said "this space is too small to discuss about the course. Overall this is a knowledge packed course for start-ups."
So, if you have an idea or the urge, but just need a little help in bringing all your thoughts together we would be happy to have you at the WEDP by Symbiosis. The Women Entrepreneurship Wing is the just the right place for you to gain technical knowledge about business, learn from industry veterans and also discuss with those who have faced challenges similar to yours. Come find your wings here!
P.S. Keep reading for more inspiring stories