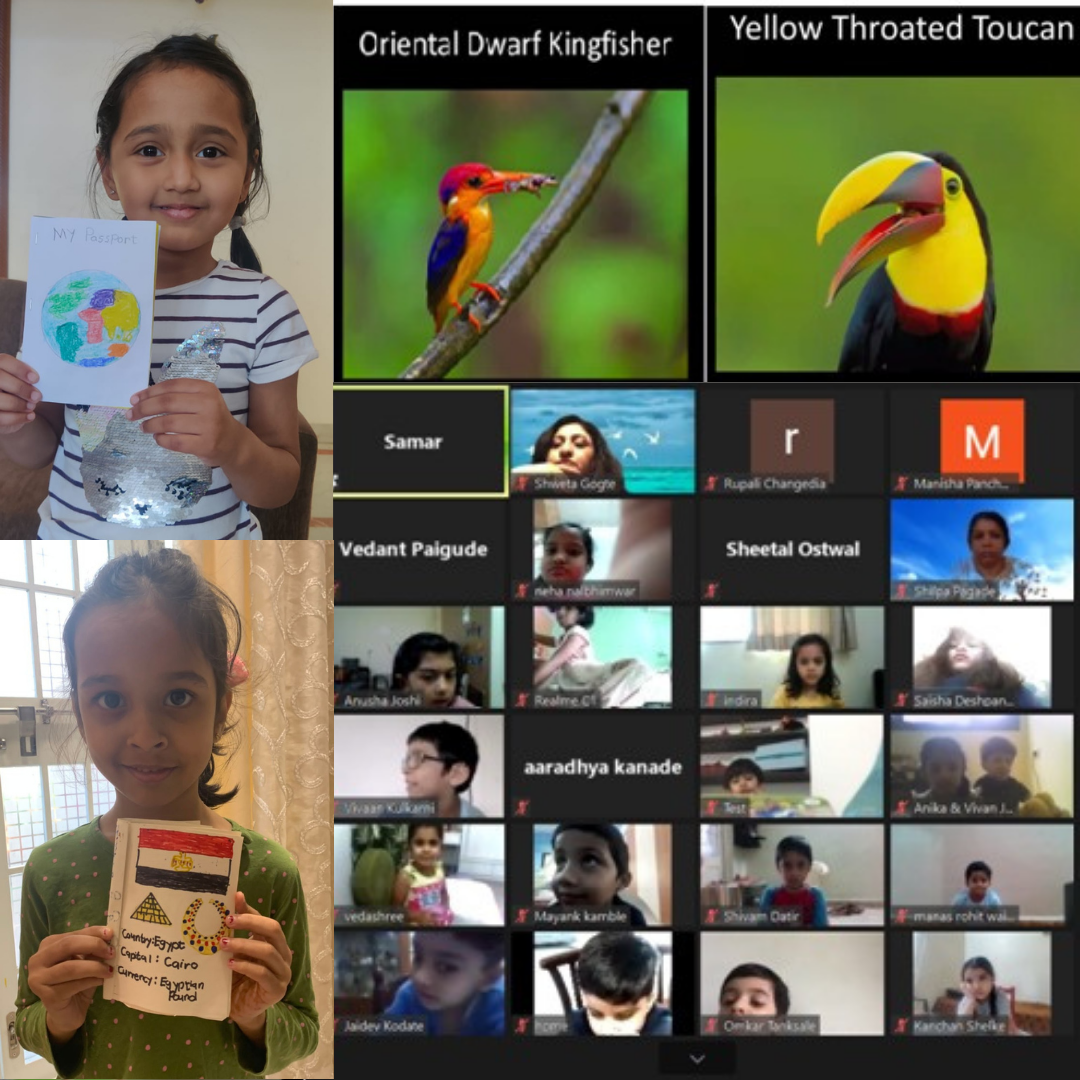 It's a usual Monday Morning and after a weekend full of rest and ample idle time, to my surprise I find my grandchildren all pepped up and enthusiastic about attending their online kindergarten classes. My grandson who is just 5 years old, screams "today I'll go globe-trotting!" I look at him and wonder whether he even understands the meaning of the words. He too looks at me and understands my expressions and starts to explain it rather animatedly. I have a huge deluge of work waiting on my table and a host of meetings lined up for the day, but curiosity gets the better of me and I choose to attend one of the classes at Symbi Stars (Pre-primary), as an assisting grandparent.
Today the children were indeed learning about 'Globe Trotting,'  and they had already been familiarized with the concept. The teachers had initially conducted discussions on which countries the children would like to visit and what they would need if they were to go there. They then shared the need of making a passport and requesting permission from the host country by applying for a visa. The teachers used tools such as visual graphics and maps to help them learn about these places that they would visit and make an itinerary too!!
The children learnt to use Google Earth to take a look at Mount Everest and the Eifel Tower as they learnt about the continents and oceans through rhymes and songs. The class teacher promised that she would soon be hosting an online walk through the streets of Leiden in Holland so that the children would be able to see the beautiful canals of Europe. In fact, she even mentioned about a virtual trip to the 7 Wonders Park as a culmination activity for the theme.
Well it doesn't end there! It seems Symbi Stars had invited Captain Vishwas Patwardhan who shared his experiences virtually, along with the photographs of his visit to Antarctica. On seeing Capt. Patwardhan, my grandson suddenly remembered a previous class wherein Mrs. Gadgil who is a professional bird photographer, had shared pictures of different birds from across the 7 continents. I understood the magic that the teachers were unfolding through all the exciting activities that made the on-line classes so engaging for engaging for the children.
Later, much intrigued by this innovative methodology I had an interaction with the teachers and came to know that many children were showing signs of onscreen fatigue. Firstly, kudos to the teachers for recognizing this and trying to remedy it. To counter this the teachers at Symbi Stars have started remediation for children who need personal intervention to come and visit the school to meet the teachers.
Pre-primary schooling is a time for laying the foundation of learning for any child.  Children build beautiful memories while learning social and formal skills, but the ongoing pandemic has made this a difficult task. The team at Symbi Stars has indeed ensured that every child gets an opportunity to actively construct their own knowledge repertoire even while the online classes were going on.
Celebrations of festivals and special days, virtual field trips, discussions and visits by various guests and experts, art, story time, music and dance are just some of the other fun activities that make all the children look forward to attending school at Symbi Stars!!
We hope that our little ones get a chance to enjoy the beautiful campus along with the classes at Symbi Stars soon and we get to see their smiling faces in person too!