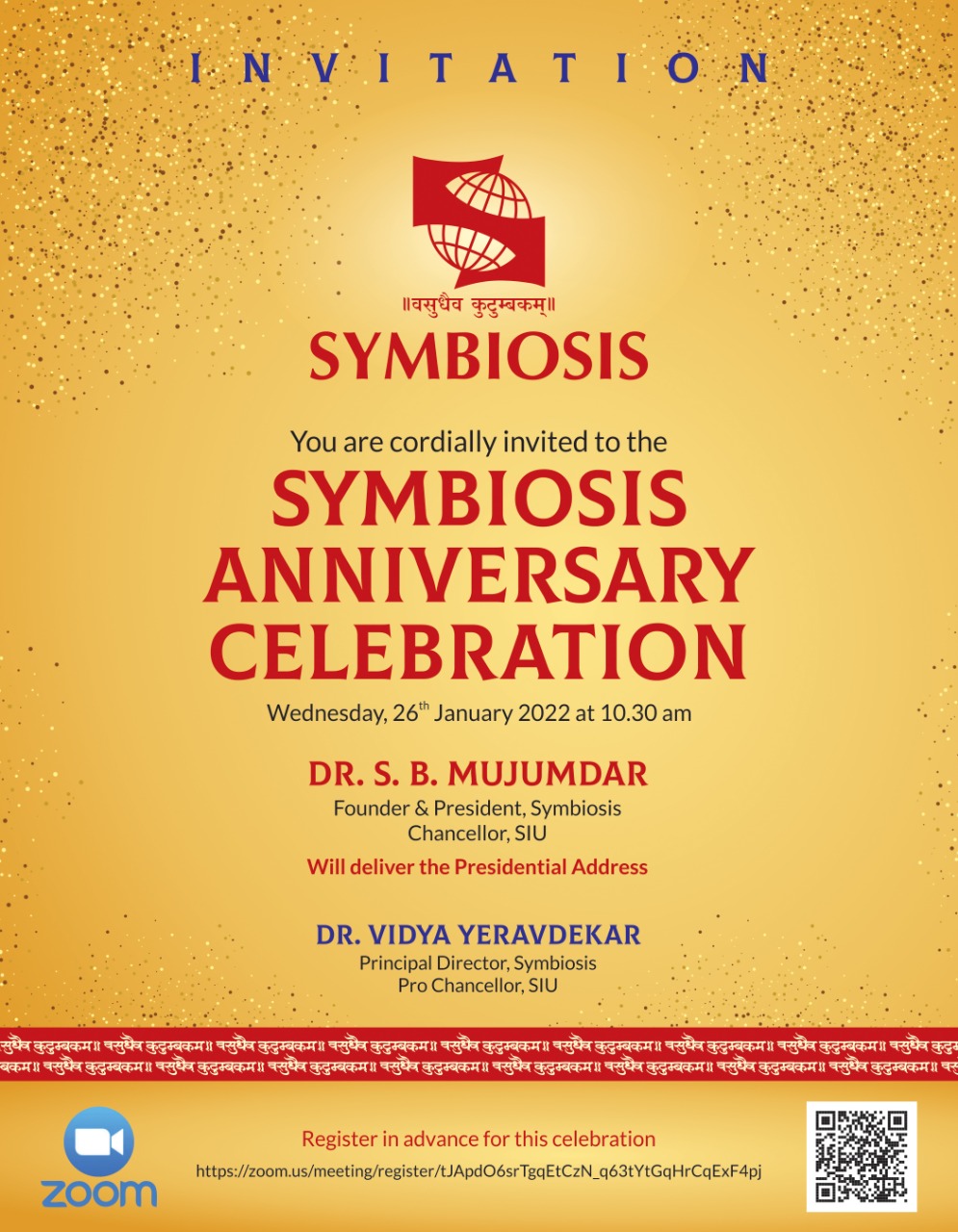 India was declared a republic on 26th January 1950 and since then this day has been celebrated as Republic Day by the entire nation. With the constitution of India coming into force we became aware of our rights, and with common laws binding all the citizens of the country, there was a sense of cohesion among the citizens. The world recognized India as a republic and India too found its place in the world.
Similarly, on 26th January 1971, when the foundation for Symbiosis Society was laid down, it was done with the thought of bringing together the varied cultures and populace of the world. The ethos that led to the beginning of Symbiosis was Vasudhaiva Kutumbakam- The World is One Family. An environment was created for equal dissemination of education among students from all across the world. It is not for any single entity to amass or feel powerful or feel above anyone. We are all equal in this world and we have to work collectively to make the world a better place.
Symbiosis has proactively also contributed towards women empowerment by offering scholarships to girl students from the neighbouring villages. The establishment of the Symbiosis Medical College for Women is another step in women empowerment, especially in the health care sector.
Having crossed the landmark 50th year, this year we aim to recognize the collective efforts of all our team members teaching, administrative and also our alumni. 50 years' worth of journey cannot be attributed to any singular effort. The Founder of Symbiosis Prof. Dr S. B. Mujumdar has ignited the flame which has been carried forth by an entire team that is dedicated to the cause and purpose of Vasudhaiva Kutumbakam.
Therefore, this year Symbiosis is all set to inaugurate the Hall of Fame, which will become a part of its annual celebration henceforth. It is our endeavour to recognize all those who have contributed to Symbiosis' journey. Perseverance, hard work and dedication are rare attributes and we at Symbiosis truly appreciate those who have reflected these through their work. Though the challenges looked insurmountable at times, they were collectively overcome. Though the tasks looked humongous at times, they were collectively completed. Though the adversities seemed endless, they were met one by one till all were resolved. None of these would have been possible had the team not had faith and belief in the vision of the Founder that the World can be One Family.
While teachers and faculty are an important part of the various colleges and institutions of Symbiosis, there are many who work behind the scenes. Therefore, the Hall of Fame is an endeavour to showcase team spirit and cohesiveness that lies within Symbiosis.
So do join us for the virtual celebration of the Symbiosis' Anniversary on 26th January 2022, and encourage us on our mission to bring the world together as one family.