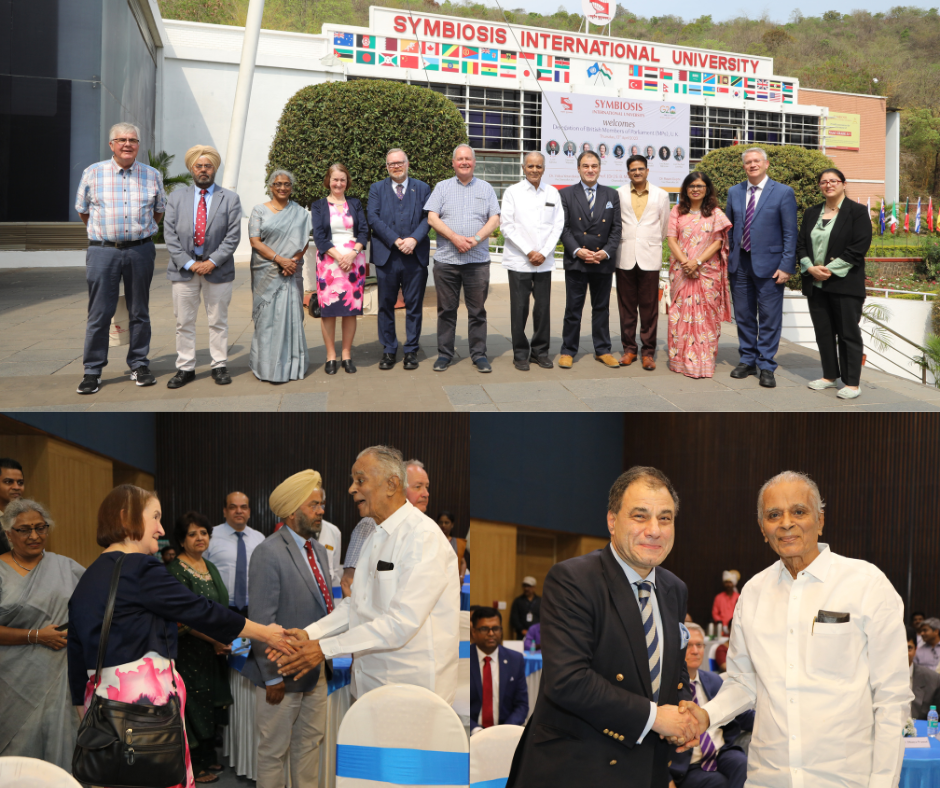 My quest for ways and means to raise India's position among the world leaders in education led me to take up a PhD in Internationalization of Higher Education. Subsequently, the New Education Policy 2020 launched by the Govt of India gave enough importance to Internationalization of Higher Education by having a whole chapter on it.
During the pre-independence period the British influenced the Indian education system. However, the NEP now focuses on an Indian education system which will create global citizens but with deep rooted Indian values.
India's importance in the global knowledge economy can be fathomed by the fact that it is home to the world's largest youthful population under 25, representing over 600 million people. India and the UK share close and cordial relations in the education, political, economic, social and cultural spheres. It was, therefore, a great pleasure for
In India's journey in education, India and the United Kingdom (UK) signed a historic pact in 2022 to recognize each other's higher education qualifications. Under the signed pact, the countries agreed upon mutual recognition of educational qualifications in light of India's New Education Policy (NEP). The National Education Policy of 2020 is a significant step in revamping higher Education in India. The NEP has opened various avenues to collaborate and offer joint /dual degrees, collaborative research etc. UK hosts some of the top world class Universities. The two-way mobility of students, researchers and faculties paves the way for British students visiting India to study. This enhanced cooperation between the two nations will strengthen the role of women in Science, Technology, Engineering & Mathematics (STEM) at schools, universities, and research institutions, leading to equal and non-discriminatory participation of women.
It might be a befitting question that will rise in the minds of many "How will Indian universities benefit?"
First and foremost, foreign university collaborations can help bridge India's demand–supply gap. India's student population is far beyond the number of seats and institutions available. UK universities can help build better educational capacities through collaborations and help bridge the gap. The easy transition of students from both countries leads to increased trade and investment flows resulting in more jobs and economic prosperity. Foreign education has a flexible and practical approach regarding the combinations of subjects they can provide – leading to varied career opportunities. India, specifically the new NEP, can learn from this and attempt to incorporate some of the best practices. Tailored partnerships are possible to enhance specific departmental and programme strengths.
I feel happy to share that an MoU was signed between the University of Leicester and Symbiosis University Hospital & Research Centre. Another MoU was signed between the Medical Research Council, UK and Symbiosis Institute of Health Sciences for the 'Prevention of lifestyle related disorders in school children.'
Symbiosis International University has signed several MoUs with universities in the UK, such as Leeds Beckett University, Nottingham Trent University, University College London, London Bournemouth University, Liverpool John Moores University, Teesside University, Loughborough University, University of Leeds and Aston University.
India and the United Kingdom are redefining the contours of their bilateral engagement in the twenty-first century. Recognizing that the UK will always be a favourable study-abroad destination for Indian students, the two countries' governments have enhanced collaborations, not only making UK even more attractive to Indian students but also making Indian education system attractive for UK students to come to India for some short term programmes. The developments in education collaborations will secure India and UK relations over the next decade.
To further promote interparliamentary exchanges, the Federation of Indian Chamber of Commerce and Industry (FICCI) partnered with the Ministry of External Affairs to organize a programme of British MPs visiting India in April 2023.
Symbiosis hosted a delegation of nine British Members of Parliament (MPs), UK, who visited Symbiosis International University Campus, Lavale, Pune, on Thursday, 13th April 2023. The group focused on the core areas of Overcoming Barriers to Trade and Investment, UK-India Free Trade Agreement, Creating a Living Bridge, and Active Networks. Among the nine Members of the British Parliament who visited Symbiosis were Lord Sahota, Viscount Waverly, Martin Day, Dame Nia Griffith, Baroness Verma, Bob Blackman, Andrew Rosindell, Lord Raj Paul Loomba and last but not least, Lord Karan Bilimoria who is the Chancellor of the University of Birmingham, which is among the top-ranked universities. Lord Bilimoria was very impressed with Symbiosis International University and said that the University of Birmingham would like to sign an MOU with Symbiosis. During the conversation, Dr Mujumdar, the Founder and Chancellor of Symbiosis, suggested that UK universities can start micro campuses within the existing Indian universities.
This visit of British MPs to India will certainly go a long way in enhancing India UK relations, more so in the education sector as much as in trade and business.