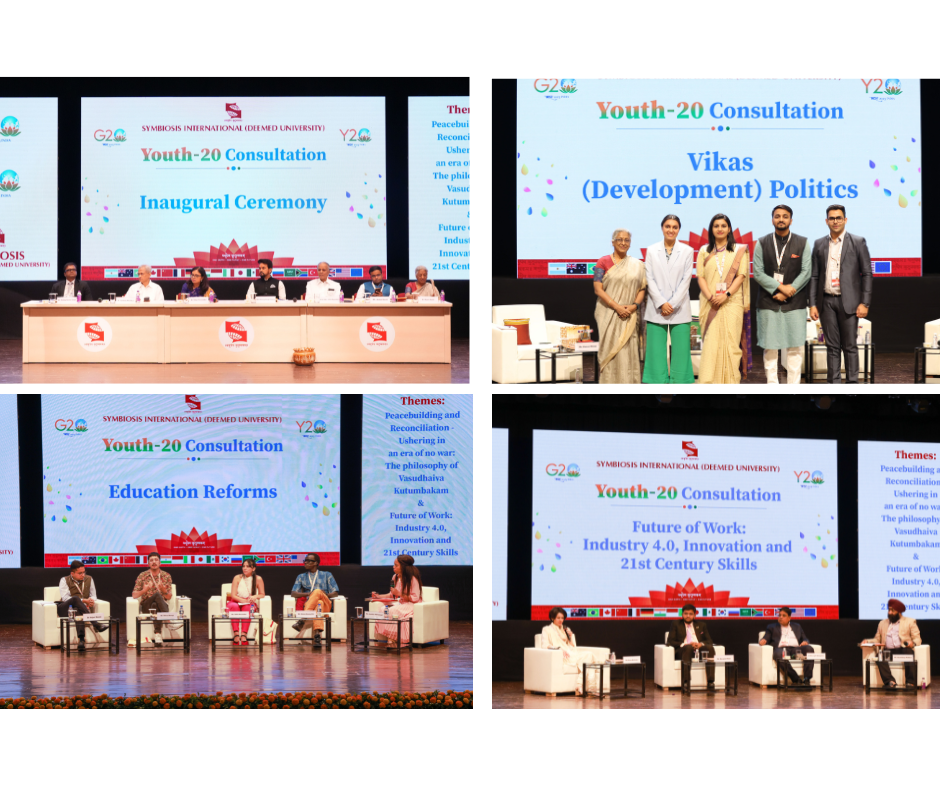 Y20 – ideas from the youth that can result in actions!
It was a proud moment for Symbiosis International (Deemed University) yesterday as we hosted the fourth Youth 20 Consultation in the country. In January this year, Symbiosis International University was selected from among hundreds of universities in the country to host the Youth 20 consultation, which brought together youth from not only all across India but also from G20 countries, thus bringing Symbiosis' motto and India's G20 motto of "Vasudhaiva Kutumbakam," to reality.
11th March 2023, will forever be etched in our memories! Our Hon'ble Prime Minister, Shri Narendra Modi ji, has very rightly emphasised that the G20 discussions must involve all stake holders and the discussions should take place all over India.
I am happy that the Y20 consultations took place at Symbiosis and the young and dynamic Minister of Youth Affairs and Sports, Shri Anurag Singh Thakur, inaugurated the Youth 20 Consultation. He highlighted the importance of youth in India's governance, development, and progress. Speakers from various countries, such as the USA, Argentina, France, Iraq, Germany, Oman and several other countries and from different States of India came to interact with delegates and students from G20 countries and other Afro Asian countries and from various regions of India. There were discussions and deliberations on poignant topics such as Climate Action, Gender-related conflicts, Legal reforms, Education Reforms, Vikas (developmental) politics, and the Future of Work. The recommendations from these discussions will be considered in the final G20 deliberations in Delhi.
Such wonderful suggestions were put up by the youth. I would especially like to mention the topic of Vikas or Developmental Politics, wherein the youth focus on constructive suggestions for development. There were excellent examples of Vikas politics that were given by the panellists and the young students from the audience also gave wonderful suggestions. It is through discourses and discussions on platforms like the Youth 20 Consultation that the youth become partners and contributors in the development of the country.
It is events such as these that encourage the youth to think not only for themselves but for the greater good of society. When we come together and discuss, our perspective broadens. We learn of others' problems and, at times, realise that others also face the issues we encounter, and collectively we can find solutions. I was happy to be a part of this beautiful university environment bursting with energy and ideas. Now, with a platform like the Youth 20 Consultation, ideas can actually result in action!