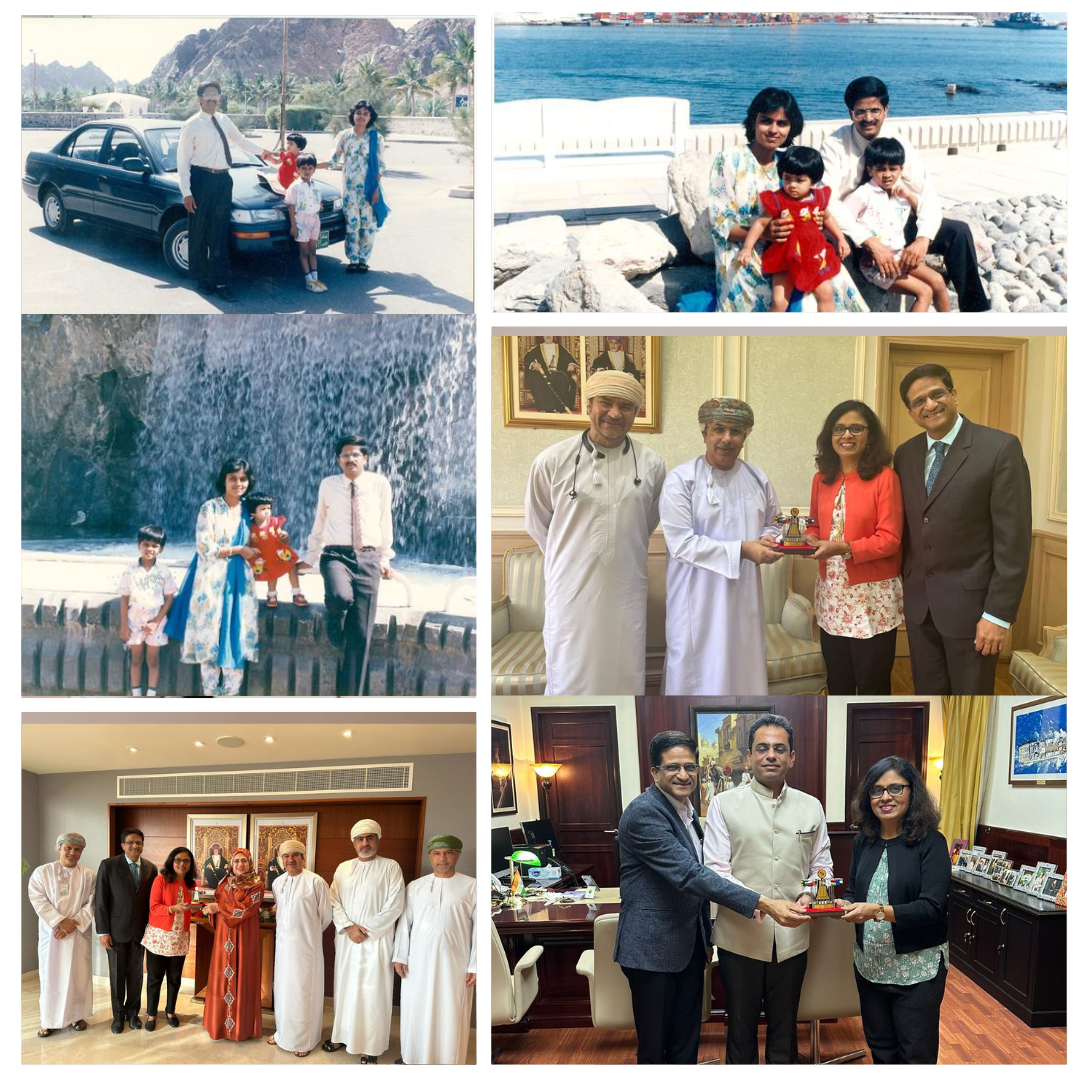 Oman is my second home. Last week, my visit to the Capital city of Muscat in the Sultanate of Oman rekindled old memories. When I was a medical doctor and had just started my medical practice, Rajiv (my husband) wanted to go abroad for further studies. The only place we could go to was the Gulf Region, and then we moved on to the UK. Therefore, we both went to Muscat and joined the Ministry of Health in the early nineties. My children were very young at the time, and though we thought adjusting to a foreign land would be difficult, the adjustment happened in mere two weeks because of the people in Oman. They are so warm and so open to accepting foreigners. They were like family and gave us warmth and love; within two weeks, I could settle there with my two little children and husband. I would be busy working with the Ministry of Health as a medical doctor, and so would my husband. I remember many times when my Omani neighbours took care of my children. When I worked in the hospital as a woman Gynaecologist, they would come and confide in me. I must draw out that Oman people have so much confidence in Indian doctors that our outpatient department would have more than a hundred patients daily. In contrast, another foreign doctor would have ten or fifteen. That was the trust and faith that Omani patients had in Indian doctors.
Oman and India relationships have been very close and robust for countless years. There are so many girls from Hyderabad and so many other places who have married Omani men and have made Oman their home. When you go back to Oman, you see the excellent development done by the erstwhile His Majesty Sultan Qaboos, and now His Majesty Haitham Al Said has carried forward this development. You can see the superb infrastructure, several universities, malls, beautiful roads, bridges, and flyovers. It is equivalent to any developed country you go to. During our recent visit, we met the Education Minister, Her Excellency Rehma Al Mahrooqi, a young, dynamic lady who knew so much about Higher Education worldwide and wants to make Oman an education hub. She wants Oman to have a knowledge-based economy and therefore wants universities to concentrate on research.
Oman holds a special place in our hearts because of our personal and professional association. We run corporate training programs with the Khimji Training Institute. Pankaj Khimji, a renowned businessman and now an Advisor for International Cooperation & Trade with the Ministry of Commerce in Oman who, also holds a Ministerial Cabinet rank position and is like a brother to me. The whole Khimji family has contributed a lot to Oman's development. Pankaj's father and grandfather, who went from India to Oman, when Oman was not developed, contributed a lot to developing Oman by helping His Majesty Sultan Qaboos. Oman has beautiful temples in Muscat, as many Indians reside there. There are Indian schools in Oman for the children of Indians who work there. In general, the Indians who live in Oman are extremely happy. Oman should become a popular tourist destination as it is a beautiful place that has lovely beaches and warm hospitality. Muscat has amazing restaurants of all kinds of cuisines but nothing to beat the Filafel and the Shwarma which are my most favourites!
I am a Member of the Board of Muscat University. It is a private university that has been set up through contributions from the top industrialists of Oman. I also visited UTAS- the University of Technology and Applied Sciences, and other Universities in Oman and, like the Muscat College, the National University in Muscat. I believe Oman pays great heed to quality education and is now focused on research.
We met the Indian Ambassador to Oman, Mr Amit Narang, who wants to rekindle the bond between India and Oman.
We were fortunate to have met the Health Minister of Oman, Dr Hilal Al Sabti, a young 49-year-old cardio-thoracic surgeon with great plans to transform Oman's healthcare system. When we worked with the Ministry of Healthcare in the early nineties, even then, Oman's healthcare system was most advanced in curative and preventive healthcare. We saw a very robust school health and university health system. Having learned a lot there when we returned, we established the Symbiosis Centre of Health Care for the staff and students of Symbiosis. The hospitals in Oman are all very well equipped, the doctors are excellent, and many doctors, along with nurses and paramedics, are from India. In the near future, many Omani patients will be able to seek treatment in India in various hospitals and at the Symbiosis University Hospital. We will also be able to train paramedics, nursing staff, and other allied services through the various skill enhancement programmes at the Symbiosis Centre for Health Skills.
Each visit to Oman makes me grow fonder of the country, and our days spent in Oman are golden days etched in our life. Through my experiences, I realise that when we value old relations, work constructively towards strengthening the bonds, and learn from each other, we truly live the spirit of Vasudhaiva Kutumbakam!