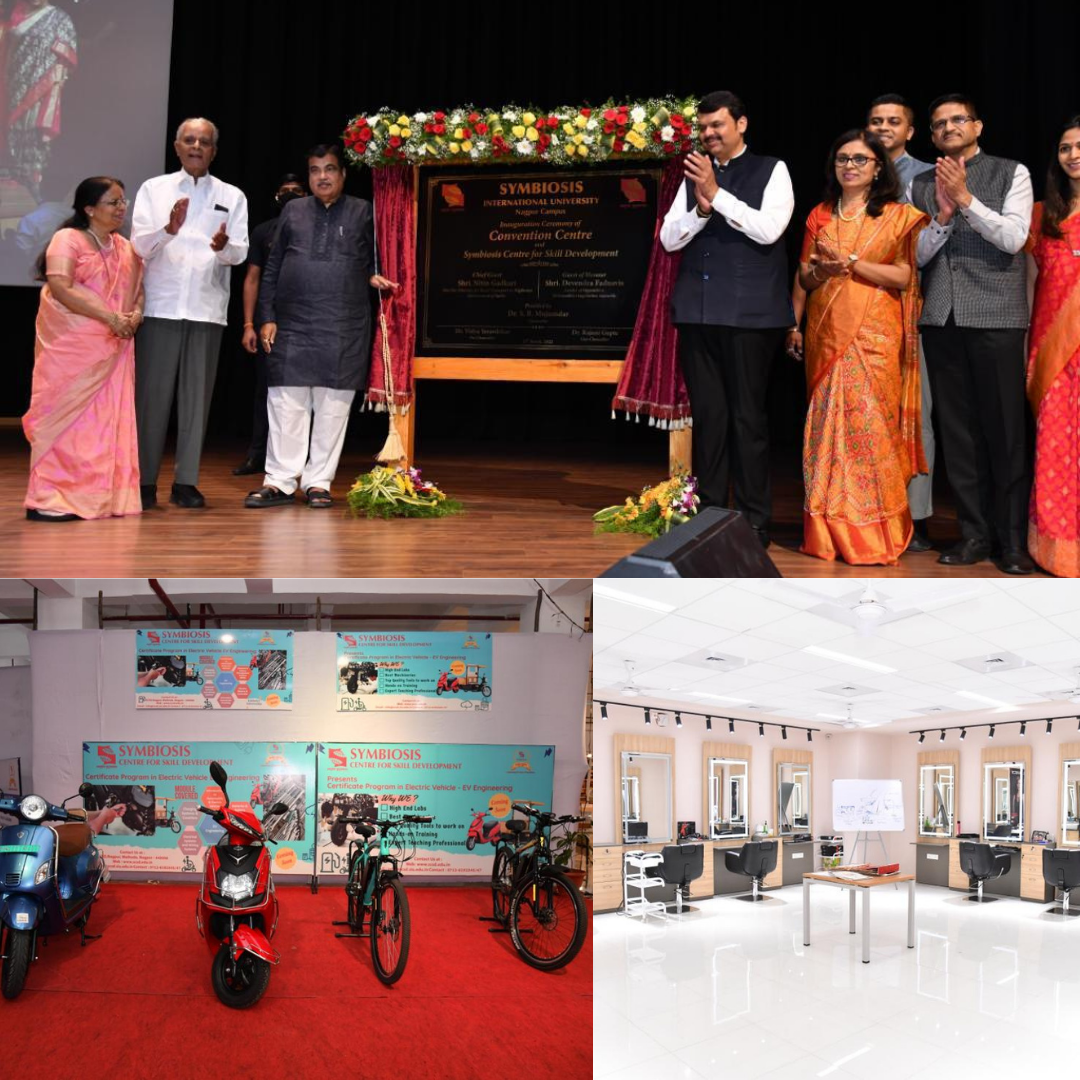 I feel elated when I see that Symbiosis International University is contributing beyond the goals of education. I am sure you remember that it was just a few weeks ago when the Hon'ble Prime Minister Shri Narendra Modi Ji inaugurated Aarogya Dham at Symbiosis International University. During his speech he had emphasized that universities should step beyond education and contribute in upholding the national goals, and I feel happy that at Symbiosis we are contributing to it, to the fullest.
Therefore, the next addition in the Symbiosis family has been the Symbiosis Centre for Skill Development at Nagpur. Our aim and endeavor is to not only provide quality education to students and the youth, but to also make them self-sufficient and self-reliant and thus be in sync with the national goals of #atmanirbharbharat #makeinindia and #startupindia.
Symbiosis Centre for Skill Development at Nagpur is strategically located and serves as a prominent Skill Development Centre in Central India. Besides the well-designed course, about which I will elaborate subsequently, we are well equipped to offer a world-class experience in terms of infrastructure like Studio Classrooms, Computer Labs, Experiential Learnings Labs, libraries, Sports complexes, Gym, Auditorium and much more. Yesterday Symbiosis Centre for Skill Development at Nagpur was inaugurated by the Chief Guest Shri. Nitin Gadkari Ji, Chief Guest Shri. Nitin Gadkari, Hon'ble Minister for Road Transport & Highways. Shri. Devendra Fadnavis, Leader of Opposition, Maharashtra Legislative Assembly was the Guest of Honour for the ceremony. Shri. Nitin Gadkari Ji has been a master planner and doer who has shown the foresight and vision to lend a makeover to the Indian Roadways and Shri. Devendra Fadnavis Ji has been an icon for the youth of Maharashtra. It was an honour for Symbiosis International University to be able to host them.
The programs offered at the Nagpur Campus of Symbiosis International University have been designed to build the skills of students in a holistic manner. For example; a student who aims to take up a course on beauty will be trained to become a Beauty Therapist but alongside they will also study Anatomy & Physiology, Skin Layers & its Function, Skin Types & its Conditions. The Certificate Program in Mobile, Laptop, CCTV Repairing and Home Automation, not only teaches the nuances of mobile phone repairing but also the basics of mobile communication. There are other courses too such as the Certificate Program in Capital Markets, Certificate Program in Drafting, Pleading & Conveyance, Certificate Program in Photography & Film Making and Certificate Program in Paralegal Skills.
To further and address the cause of conservation of the environment while contributing to skill development, SCSD has started a course on Automobiles and Electric Vehicles. The students are not only shown the practical demonstration of each component discussed in the theory session regarding electric vehicles but are also sensitized towards the alternative sources for powering vehicles such as Wind, Solar, Fuel Cells & Super Capacitors Energies.
These courses have received excellent response from not only the city of Nagpur but also from many other cities of India. I am sure that the students, will utilize this opportunity to the fullest and benefit from this holistic learning, after all empowerment only happens when knowledge meets skills.