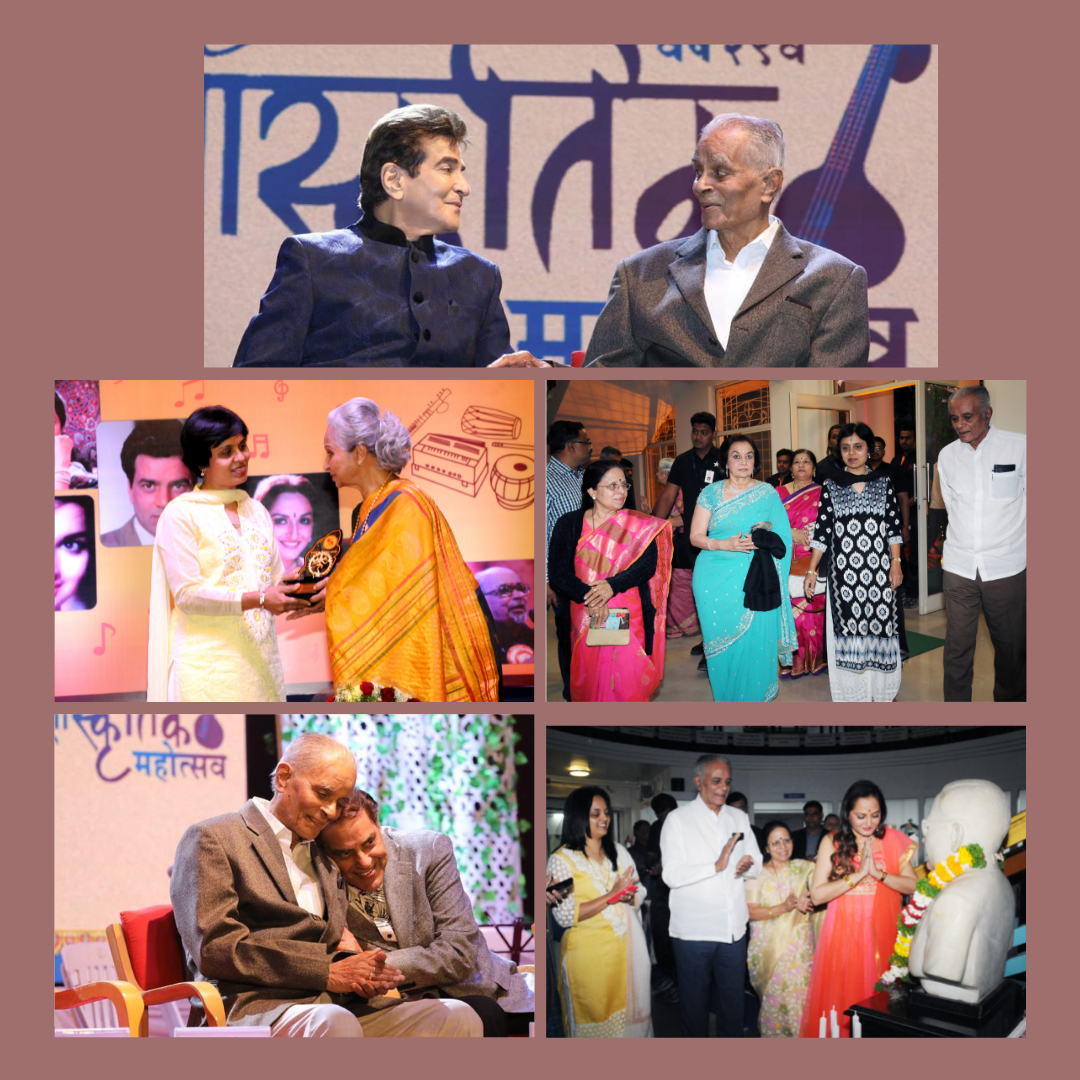 Last week Symbiosis celebrated the Symbiosis Sanskrutik Mahotsav which was initiated 28 years ago. It is organised for three days before the anniversary of Symbiosis which is on 26th of January. During the three days of the regalia, artists are invited from various parts of the country, recognized for their contribution to the world of art and culture who perform for the citizens of Pune. The Symbiosis Sanskritik award is given to an alumnus of Symbiosis who has excelled in the field of Art and Culture. This year two stalwarts from the realm of Indian cinema who are our close family friends joined us, Dharmendra ji and Jeetendra ji. As always, I was amazed not just by their persona but the humility with which they handled all the love and admiration that was showered upon them. Dharmendra Ji who is now 88 and Jitendra Ji who is 80, still exuberate the same energy and enthusiasm that they did when they enthralled us with their popular movies. Dharmendra Ji was born in Ludhiana and his father was a school teacher. He wanted to become an actor but didn't have the courage to tell his father, he says. So, like any other boy would seek help from his mother, he too did, and an innocent mother told him 'aap application to Bhej do!' (send in your application) as she thought he had to send his application to get a job as an actor! With his strong will and dedication he was then selected by Bimal Roy and Guru Dutt and rest is history!
Same is the story of Jitendra Ji. His father used to make artificial jewellery which they would provide to actors. Jitendra had to go and deliver this jewellery on the sets of the shooting. Curious as any boy of that age would be, he too wanted to watch the shooting but was not allowed. So he complained to his father who then put in a word to the then illustrious director Shantaram Bapu who allowed him and even took him as one of the six 'extra' actors in a scene! Again, his humility, grit and determination compelled Shantaram Bapu to give him a role of an actor in 'Geet gaya patharo ne!'  Both these actors were ruling the Indian film industry for decades yet they remain so humble. It is only because of the sanskars and their family upbringing.
In the past, too, I remember Asha Parekh and Waheda Rehman coming for the Symbiosis Sanskritik programmes. One of the most popular stars of her time, Ashaji too, comes from a humble background. Although she was born in a Gujarati Jain family and started performing stage shows at an early age, she started her film career at twelve. She has faced her fair share of rejections too, as she was refused to be cast as the heroine by Vijay Bhatt for his film 'Goonj Uthi Shehnai,' but precisely eight days later, she was cast by Nasir Hussain's 'Dil Deke Dekho,' against none other than Shammi ji. There was no looking back post that.
Similarly, Waheeda Rehman ji, too, has faced her share of struggles. She wanted to become a doctor, but her constant illness stopped her from becoming one. However, God had blessed her with other skills, and her proficiency in dancing was noticed by none other than Guru Dutt, and she found her footing in the film industry with the film CID. She has played various roles and acted in almost every genre of film, and in 2011, she was bestowed with the Padma Bhushan Award. Another equally versatile actress who I know personally is Jaya Prada. Even with her first film 'Sargam,' she made a mark in the Hindi film industry and bagged the Filmfare Award. The one common factor among all these actors is that despite the fame and recognition that they have received, they remain rooted and grounded, and humility is a part of their persona.
Their humility is endearing, and the warmth they show toward their fans is what the younger generation needs to imbibe.
My respect for those who remain humble comes from the fact what I have seen it right since I was a child. My father Dr S. B. Mujumdar has been a recipient of the Padma Shree and the Padma Bhushan, and has created a magnificent institution, yet has always remained humble and has always taught us that institutions are bigger than individuals and that our feet should be on the ground even if you aspire for the sky! He too came from a small village Gadhinglaj in Maharashtra, but always aspired to acquire knowledge which brought him to Pune for his PhD. As a teacher of Botany, he was one of the most popular teachers but as a rector of the Boys hostel, when he noticed the plight of foreign students, he decided to establish Symbiosis an organisation to take care of foreign students. From a humble beginning, from our house to one of the largest multidisciplinary Universities in India, all this is because of his sheer dedication, hard work and commitment and most importantly his humble and simple personality that people respect him for!
One can give several examples of great people like Mr Narayan Murty or Mr Azim Premji or even Ratan Tata…all of them have always remained humble despite having achieved laurels for themselves and the organisations that they have created!
Having seen my father and such stalwarts of the Indian industry, I have realized that no matter how tall you stand today, you should never forget that your feet should always be on the ground! The youth of today will be the leaders and achievers of tomorrow, and if they imbibe the attribute of humility, they will surely achieve the highest pinnacles of success.