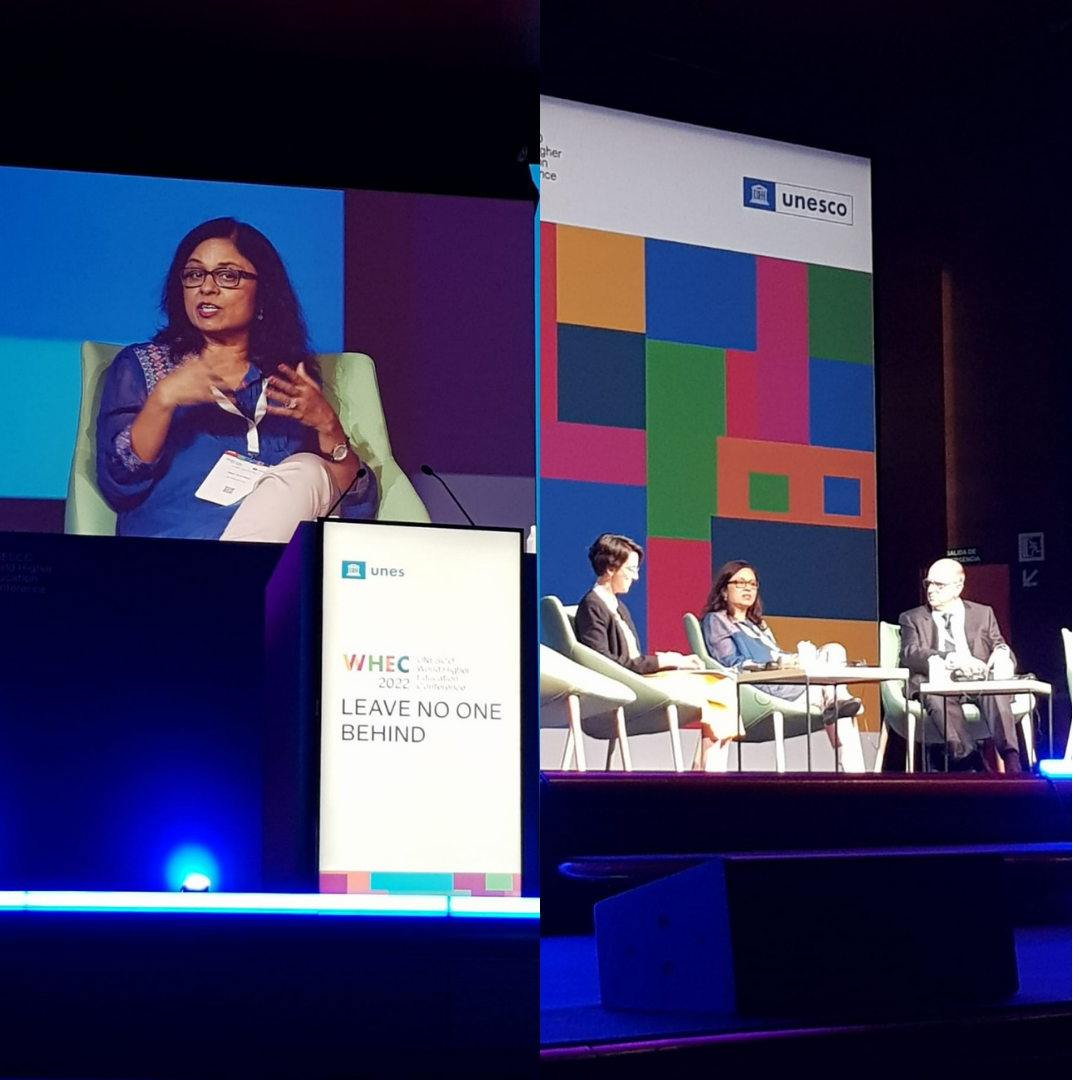 As an academician and an educationist, I had always been enthralled by the thoughts shared on platforms such as the UNESCO World Higher Education Conference. Inspiring words from eminent academicians, would never fail to inspire me and stoked my passion further to contribute in the progress of higher education in India. Therefore, when I was invited to be a speaker at the WHEC 2022, for three sessions apart from the OBREAL Global Networking, not only was I excited to share the progress that India had made in the realm of education, over the past several decades but also felt proud that my country was being recognized.
At the onset, I would like to commend the efforts of UNESCO for organizing the World Higher Education Conference (WHEC 2022) which aims at reshaping ideas and practices in higher education to ensure sustainable development for the planet and humanity. In the its own words WHEC says "The goals and strategic scope of the conference remain, and the new time frame represents an opportunity to deepen and expand our common efforts of knowledge production, policy dialogue, exchange, and networking. UNESCO considers the process of collective construction as the greatest richness of this conference, which aims to become a global conversation nurtured by diverse narratives on higher education."
On Day 1, my colleagues from other parts of the world and I talked about the recent happenings, challenges and the solutions that we had devised to overcome the challenges specific to our regions. In celebration of and as a contribution to the UNESCO World Higher Education Conference 2022 in Barcelona, OBREAL Global, DAAD, ENLACES and AAU invited partners to an important discussion and networking reception. The goal of this event was three-fold: Shedding light on the different visions for the relationship between higher education and the SDGs, as seen from different world regions and their representative organisations; Sharing, in a very pragmatic manner, some of the most current initiatives related to how the higher education sector is embracing and contributing to the SDGs, and how this is measured; Provide an interregional networking space around this important issue.
On the last day, I spoke in two sessions; on the topic of Open Science and the need for inter-regional collaborations. It was truly enlightening to engage in conversations with fellow panelists from Spain, Latin America, Africa and Ireland.  I then spoke on the topic 'New Visions for Higher Education Towards 2030' – from vision to action and in front of a global audience representing more than 100 countries!
Over these three days through the many conversations that I had with my global colleagues I realized that some of our problems may be unique but most of them are similar. Therefore, the WHEC provided us with a much-required platform that facilitated dialogues and discussions and united higher education across the globe.