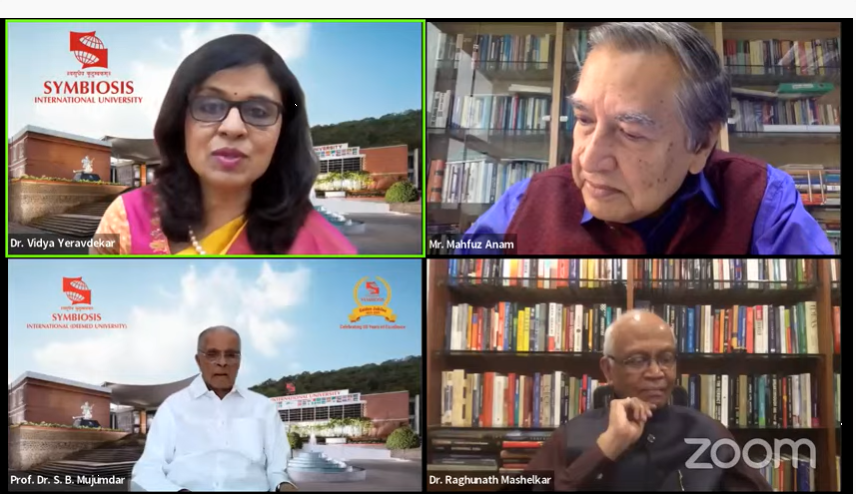 What a wonderful topic to be discussed by the stalwarts of the field such as Mr Mahfuz Anam (the Editor & Publisher of The Daily Star – the leading newspaper of Bangladesh) who incidentally had been a colleague of our beloved Dr Dileep Padgaonkar while they worked at UNESCO, Paris!
A few weeks back I was reading about the ill effects of social media and how it impacts young minds adversely. However, the thoughts brought out by Mr Anam today were quite enlightening. He talked about the freedom that social media has brought in. In fact, he even mentioned that mediums such as Google and Yahoo are algorithmic ways to project news that has already been showcased on traditional platforms.
Answering the question "What is Social Media? And why is it relevant?" he said that social media initially started as an informal platform for people to interact. The idea was to bring together like-minded people for a common cause. People with varied cultural tastes or political affiliations could share their perspectives on social media but mostly within the group itself. Gradually over a period of time, it gained importance as it started encompassing the whole world. This has changed our civilization, as never before did a single entity have the power to impact millions, thus gathering immense power. The power of social media comes from the fact that it is "democratized the space for discussion." His puns were so apt as he said that "not only has social media made news flow but it has also made views flow and that too almost instantaneously." Vis-à-vis the traditional media that was more about one person or institution putting his or their thoughts across and the readers could do nothing but to accept the views.
I find myself agreeing with his perspective that journalists are like gatekeepers of information. They have to take an impartial view of the situation and be judicious about the information that they want to disseminate among the public.
On the same note, I would also like to add that Symbiosis takes cognizance of its duty to imbue its students with high moral values and be ethical journalists. Hence we have courses that include classes on teaching ethical journalism to the students of Symbiosis School of Media & Communication.
As this interaction came to an end Mrs Latika Padgaonkar quoted playwright Arthus Miller "A Good Newspaper, I suppose, is a nation talking to itself."