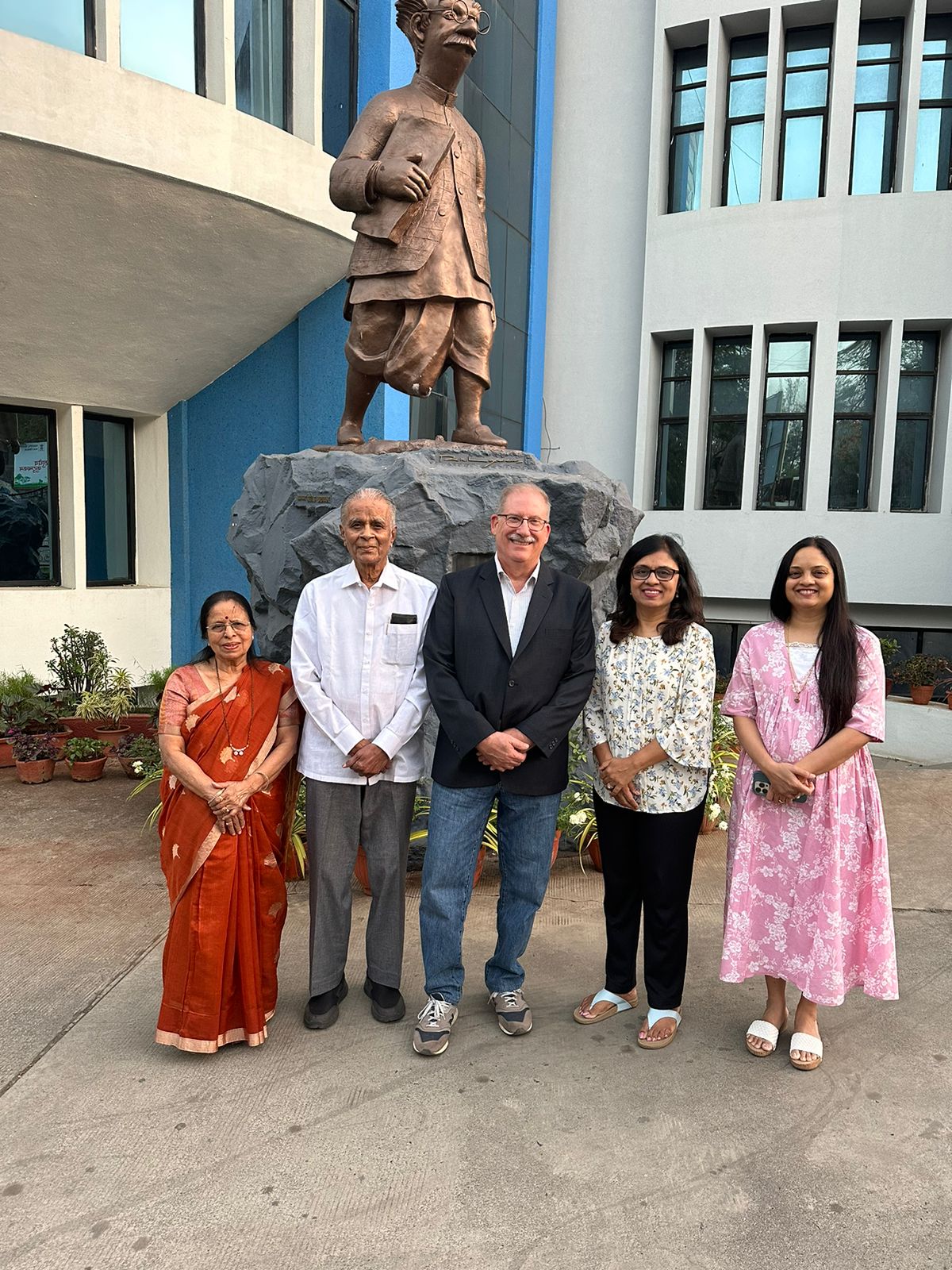 Dr. S. B. Mujumdar established Symbiosis in 1971 as a small welfare organization for foreign students. The first centre that was established was the Symbiosis International Cultural Centre. It started in our house as Dr. Mujumdar did not own any land or buildings to create an organization. Therefore, Symbiosis was born and established in our little house, at bungalow No. 9, within the Ferguson College Campus. At that time, I was a small child of seven and I remember that many foreign students came and stayed with us. If someone were homesick, my mother would tell them to stay with us for a few days till they felt better. If someone lost their passport or had family issues, they would be welcomed into our house. I have spent my entire childhood seeing at least one or two foreign students living in our small bungalow.
One small guest house room was earmarked for foreign students only. There would be students from Ethiopia, Nigeria, Iran, Oman, and Yemen, among many other countries. Therefore, we have had the privilege of growing up in a very secular culture. In 1971, there used to be a number of students from Iran who could not speak English and, therefore, could not express themselves very well. So, my mother learned Persian so they would feel at home and think it was their mother talking to them. My entire childhood was so lovely; I spent time with foreign students, playing with them, and understanding their cultures, religions, and regions.
One such foreign student that I distinctly remember, is Mr. John Owens. John was a student from America, who came here in the early seventies to study Marathi and Sanskrit at Pune University. He had been placed in a Marathi family as a PG Student. However, John did not feel comfortable staying with them and felt as though he was being discriminated against. As Dr. Mujumdar was a Foreign Students' Advisor, John happily walked into our house one day and told Dr. Mujumdar, "You are the Foreign Students' Advisor and you have put me in a family that doesn't want me. So, what do I do? Where do I go?" And my father said, "then come and stay with us." And John Owens started staying with us and became our John kaka (uncle). My grandmother was a staunch Hindu Brahmin, and she told my mother that he could not enter the kitchen. But later John kaka won everybody's hearts so much so that my Ajji (grandmother) and John kaka became the best of friends. They would go to the nearby temples to sing bhajans early in the morning! John kaka stayed with us for almost a year, and during his time with us, he helped my mother with the daily chores. He would speak in Marathi, learn Sanskrit, travel to different places across India, understand other cultures in India, and return to our home again. He would come and drop me at the bus stop also and see me off to school. These were my childhood memories of John kaka.
John kaka then wanted to marry an Indian girl, so my parents found a lovely bride for him, Sujata Pathak, a homeopathic doctor. She readily agreed because John kaka was charming, handsome, and, most importantly, a beautiful soul. So again, the kanyaadan and the entire ceremony were performed in our house, and my parents became John kaka's parents for the wedding. After a year, John kaka and Sujata decided to go back to America to Minnesota, his hometown. As he was leaving for Mumbai and had to take a train from Pune for Mumbai, all of us cried profusely at the railway station. Though John kaka had left us, our relationship did not end there. John kaka kept writing lovely letters to us and made regular phone calls. Not only that, but till date, every two years, he visits us because he believes that my parents, Mujumdar Sir and my mother are his parents, and we are his Indian family. He now has three lovely children who have grown up Jayanti, Siddharth, and Devendra. Recently, John kaka has become a grandfather to Jayanti's twins. The twin boys are also named Ram and Rohan.
I am amazed to see how the Indian culture has travelled across the seven seas into an American home. He cooks Indian food, loves Indian music, speaks Marathi, and is still connected to us and India. These are the special bonds that Symbiosis creates with foreign students and nurtures for years. Symbiosis promotes this entire concept of Vasudhaiva Kutumbakam, making everyone believe in the ideology that the World is One Family. John kaka, you are one of the fondest memories from my childhood, and I hope you keep coming back to our home in India. It was so nice to have you visiting us recently, as it brought back all the lovely memories and flooded us with nostalgia.
I hope we create more such bonds with foreign students, in the future, as we did with John kaka!